Dream Aloud
1998 Bay Snowcap ◊ HyPP NN ◊ FPD Registered
Al has been determined to be positive for PSSM (n/p1) through testing of his foals. While it has obviously not hindered his abilities to perform, let alone continue a quality life, we have taken that into consideration along with our lack of time, energy and desire to continue our breeding operation for the time being, and will geld him this fall so that he can be turned out with the herd. I have tried to notify all the owners of the foals we bred here or of the mares that we bred. Unfortunately I had no way to contact those who own foals from breedings previous to our ownership. Al is hands down one of the best out there, and this doesn't change that.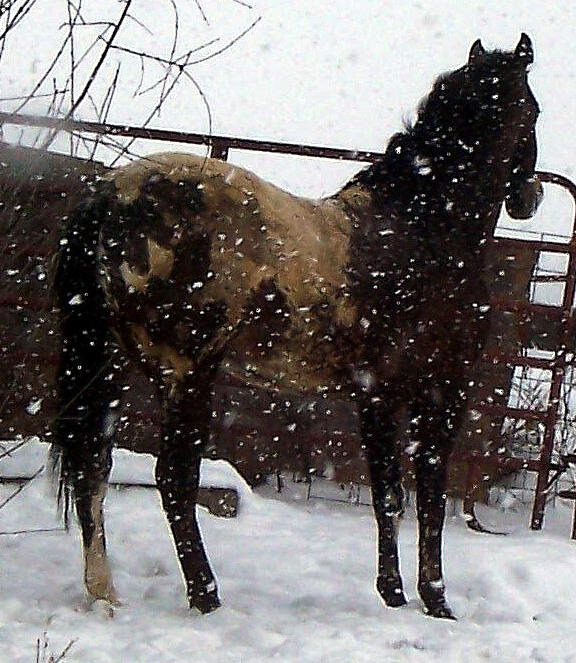 130 ApHC Points ◊ ApHC Champion ◊ ApHC Versatility Champion ◊ 6 ROMs
Top Ten Worlds ◊ Top Ten Nationals ◊ Leading the Nation
Point Producing Sire!
Registers of Merit in:

Hunter in Hand
Judged Heading
Judged Heeling
Timed Heading and Heeling
Timed Tie-Down Roping
Steer Daubing

Points in:

Reining
Rope Race
Working Cow Horse
Judged Tie-Down Roping
Heritage
Open Halter
Most Colorful at Halter

Top Ten Placings:

Worlds 2001 - Tied for Reserve in Hunter in Hand Stallions
Leading The Nation - 3rd in Hunter in Hand Stallions
Nationals 2004 - 5th in Senior Judged Calf Roping
Leading the Nation - 2nd in Timed Calf Roping
Leading the Nation - Judged Heeling
Leading the Nation - 4th in Steer Daubing
So Go Ahead...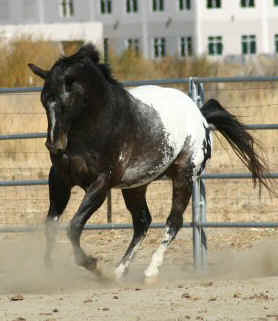 Dream Aloud!
For more information on breeding to Dream Aloud, please email me at TelogaApps@TelogaValleyFarm.com
**Al's 2006 foals can be seen at Black Horse Ranch**
Betting Aloud ◊ Black Amber ◊ Aloud Lover ◊ Nevada Night ◊ Enhanced ◊ Perfectly Peppy
Al's 2007 foals:
Red Hot Dreams ◊ Smilin In My Dreams ◊ Dreamy Little Pepper ◊ Rons Dylan Dreams ◊ Dream On Ice
Al's 2008 Foals:
Caught Ya Dreaming ◊ Saucy Dreams ◊ Sweet Dreams Lady
Al's 2009 Foals:
Im Aloud ◊ Loud Luvin ◊ American Dreaming (deceased)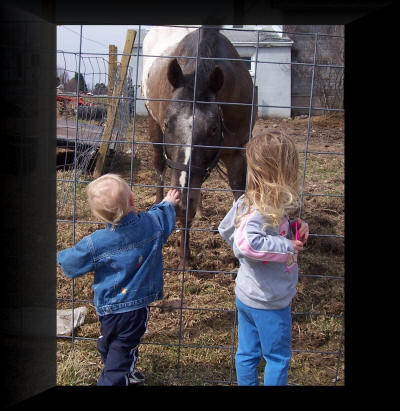 Impressive (AQHA)
Impressive Andrew

ApHC Hall of Fame
World and National Champion Sire
ApHC Superior in Halter with 116 pts

Roman Annie

Halter Point Earning Mare

Classic Black

105.5 Halter Points - Superior in Halter
Points also in Most Colorful, Buckboard Driving, Heritage, Pleasure Driving, Hunter Under Saddle, Trail, Western Riding, and Snaffle-Bit Hunter under Saddle

Sonny Dee Bar
Ms Sonny Dee Goer

Bronze Production Plaque
Bronze Superior Prod. Plaque
Silver Production Plaque
Gold Production Plaque
Dam of Pleasant Dreams, Dreamalot, Mr Big Bucks, License to Thrill, Lasting Tribute, Spotdotcom, Clairvoyant and Ongoing Quest

Ms. Goer

Halter Point Earning Mare

Dream Aloud

Full Sibling to Classic Colors and Naturally Classic

Alias King

Halter Point Earning Stallion

Dreamfinder

ApHC Hall of Fame
World and National Champion Sire
Points in Halter

Aztecs Fancy Frani (AQHA)
Reason To Dream

Full Sister to Dream in Color - ApHC Point Earning Mare
Dam of Classic Colors, Naturally Classic, The One, Night After Knight and Reasonable Request

Well Decorated (TB)
Decorator Colors (TB)
Reason To Earn (TB)