1998 Red Leopard Stallion

It is with great sadness and broken hearts that we must announce the passing of this great stallion. Though he may have never been a household name, he was one of the greatest horses I have ever had the pleasure of sharing even a small part of my life with. For those of you who have one of those special horses, hold them dear because you never know when they will no longer be here with us. Tardee, or T as we called him here, was the prime example of health and a bizarre paddock accident took him from us. His whole life was still before him, we were going to be riding fences and enjoying life well into his 20's. I can't describe how empty my barnyard is without him.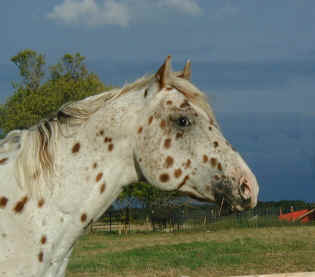 One thing I have learned, as bitter a lesson as it is, is that there are never enough pictures taken, never enough memories put on paper to fill the hole left when something you love so dearly goes on ahead of you. All we have is what is left behind, it's never enough. But let me share with you what I have of pictures and memories in hopes that you might catch at least a small taste of this great horse.
In 1998, my mare Cherokee Eyes was expecting our first appaloosa foal. I was hoping to start showing at ApHC shows, and that foal was going to be my first appaloosa show horse. Things didn't go as planned, and Chris had problems delivering, her placenta detached too quickly and we lost the filly, a beautiful black and white baby with stockings and a blaze. A breeder on an internet list I was a part of then had a colt born a month later, a gorgeous leopard that I fell in love with. I didn't think we could afford him, and was pretty sure my husband would veto any possibility and so hung the picture on my fridge and was prepared to settle with only that - a picture.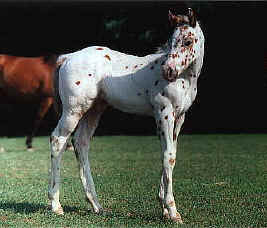 But my husband surprised me and encouraged me to buy the little guy. We went up and saw him but as my husband said, my mind was set already. It so happened that my husband had also just joined the military that summer, and we were packing to move to Texas for his training. So we loaded up our mare, Chris, and swung up to Kentucky to pick up our 3 month old colt. We had someone else caring for our other horses until we knew where he'd be stationed come November. So T came to Fort Sam Houston with us and he and Chris were my sanity for 4 months of living in a 2 bedroom apartment with my two toddlers, 2 cats and 2 dogs.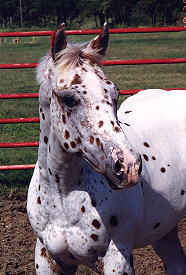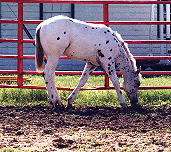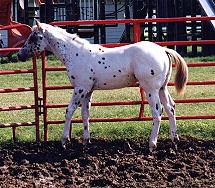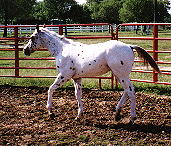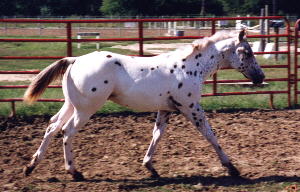 During this spell, I also braved my first Appaloosa show with T. Knowing nothing at all, but willing to give it a try, we showed in Weanling Halter and Most Colorful at Waco, Texas. We didn't have any competition in the weanling class, and I don't remember the placings in Most Colorful, but I do remember the judge coming up to me and talking about what a nice baby I had. Ribbons aren't the only thing worth getting at a show.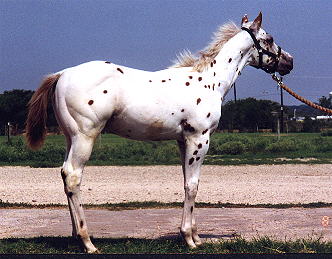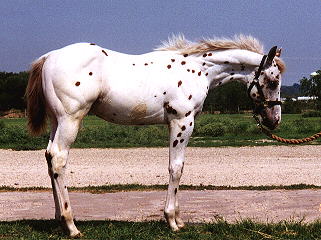 We then moved to Oklahoma, where my husband was stationed at Fort Sill. We found a place with some acreage so I could have my horses home with me and brought our AQHA babies home from Georgia. T now had buddies to play with and room to stretch out and run.


And he was always with me whenever I was out and about in the pastures...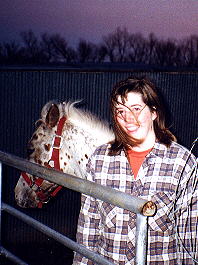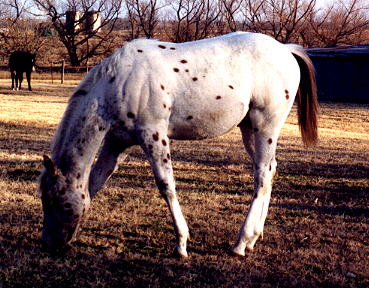 We started showing again in Spring of his yearling year. Our first show was in Oklahoma City, and it was COLD!! T still had a little bit of his winter coat, and I knew no one for the most part. It was intimidating, and more than once I almost loaded back up and went home! It was at this show that we met Brian Raggio, and his future wife Deena. He offered us encouragement, advice and suggestions. All the same, I entered the arena feeling like a little pauper amongst the high and mighty. I felt like we stuck out like sore thumbs being so new and obviously not as polished as the pros I showed against. Add to that, as we trotted down through the judges, a horse in the stalls which were along the arena kicked his metal stall, spooking T who sat back and the momentum of his stop threw him over backwards. Oh - I was indeed ready to crawl into a hole and never reappear. But we finished the class and I was thrilled when Sandy Jirkovsky placed us 4th out of 5. It was our highest placing that day, LOL!
But I didn't give up, and we went home and worked harder the next time to be ready for a show in Texas. It was Mother's Day weekend, and the show was put on by DalWorth. Again I felt like we stuck out - and not in the good way - but the judges must have felt differently there, and we must have done something right. T won his class Saturday morning under both judges. I remember being out there in the ring, thinking there was no way we'd place Grand or Reserve, and being exceedingly happy that we had won the yearling class. I even walked out as they called out the winners, having forgot my number anyway at that point. Travis was grinning at me, and other people were watching me when I asked Travis what my number was. He said something along the lines of "Oh, its something like 680" (or whatever the number was, that was years ago now!) and I took two or three more steps and froze, looking at him with "but that was the horse that won Reserve"...At that point he just really started grinning and I smiled so big it hurt! Not bad for a yearling, let alone one with me at the lead! The second day another colt showed up and we took 2nd under him but I was still so thrilled about those two Reserve Grands it didn't matter! We placed well in Most Colorful that weekend also, making it a good weekend all around. And of course if there had been any doubt of showing more, it was settled then. We showed a few more times that year, got to know the Raggios better, and were short of qualifying for Worlds by half a point. But we took him for NonPro, and Travis showed him, as I worried that my previous employment as a camp riding instructor made it illegal for me to show NP that year.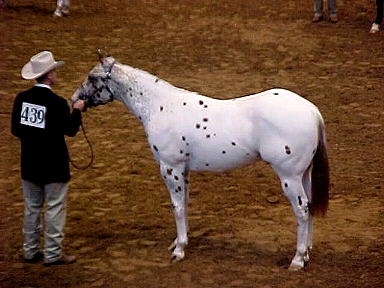 We had also braved the Lungeline classes, which were new at the time, and only had one judge all summer place us lower than 2nd I think. I showed him in Lungeline at Worlds, oh what a mess! We stood out there for about an hour before it was finally our turn, and to say that T was cranky would about fit the bill. He showed his disapproval when he started his circle with a flavorful buck, and proceeded to behave after that, but with 30+ other horses to choose from, that buck sealed the deal!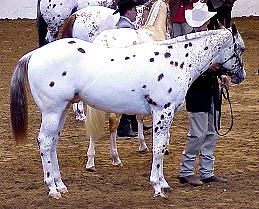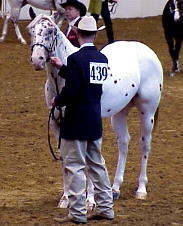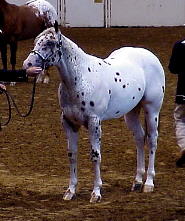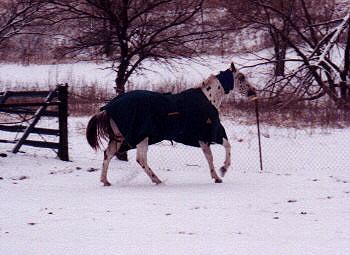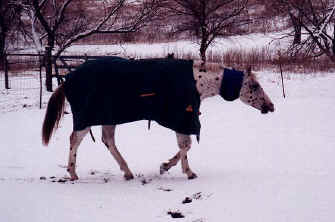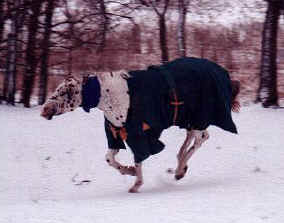 It was his 2 year old year that we decided to move up and get some help. But we would suffer a set back that threatened to end his halter career first. It happened one morning while I was out working in the pastures, filling water troughs, etc. T was playing in his smaller pasture, running the fence between me and him as was his habit around feed time. I saw it happen, but there was nothing I could do to stop it, his foot slid behind the wire in the fence, and caught the next wire below it when he did a roll back too close to the fence. His foot was caught and he went to pull back but the wire had him, one over, one under. Trying to stay calm and get to the gate and into the fence, calling "whoa" to him, I ran around, and he tried to stand still, but the pain was too much and just as I came up and thought I might be able to get to him, he pulled back. Even with blood spraying, he came right up to me and I started grabbing bandaging. He stood while I wrapped towels, leg wraps, and vet wrap into swaths around his leg. Still the blood poured through the wrappings. I ran to the phone and began crying as my husband answered. "T's cut his leg, he's bleeding out and I can't stop it". Fortunately, by the time Travis got there, the massive bandaging had indeed stopped the bleeding but the artery was cut clean through, as well as the nerves. Travis feared we'd lose the foot when it was all said and done, but stitched and wrapped it. All the times T pulled the bandages off, and twice ripped the stitches back open - there were days I wanted to strangle him. But he always stood to be worked on, wrapped back up and given his lecture about letting the foot heal. And heal it did. He never did have feeling in the bulb of the foot, but at the time of his death almost 4 years later, you wouldn't notice the scar unless you knew where to look or were working on his feet and noted the hair grew backwards over it. It was still pink when we sent him off to train at Raggio Ranch. Before he left, we bred him to our mare, Cherokee Eyes. He then started into "real" training!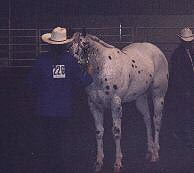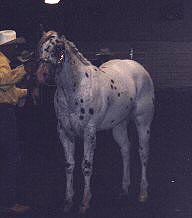 It worked out well, as we were moving the end of July to North Carolina where Travis had been stationed at Camp LeJeune. So I was able to show a time or two, and showed him at our first ever Nationals, before leaving him for a few months.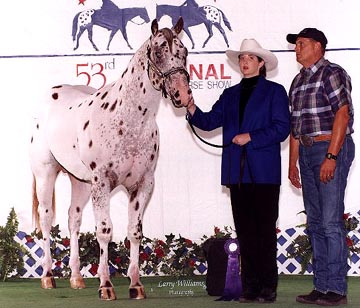 Those few months where I couldn't see him at all were hard. I hadn't realized how very much I'd miss him. There was never any doubt that he would come back home after Worlds. Boy was I surprised with how much he had grown and filled out when I went out to Texas for that show! But he was still my boy all the way through. I remember being out there showing him then, and everything just seemed to fall together. All that Brian had taught me and T jived for that class, and T stood like a trooper.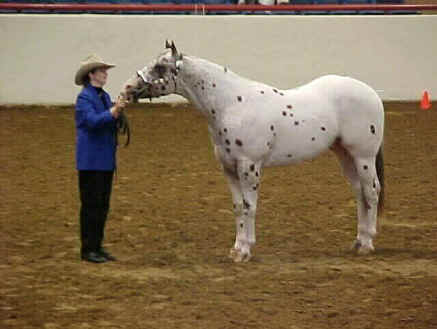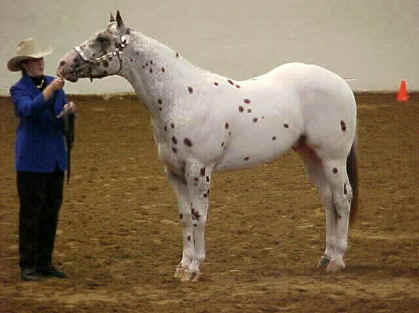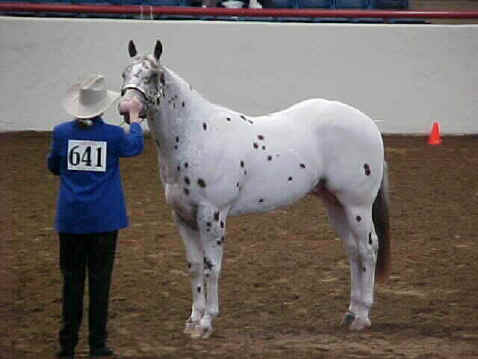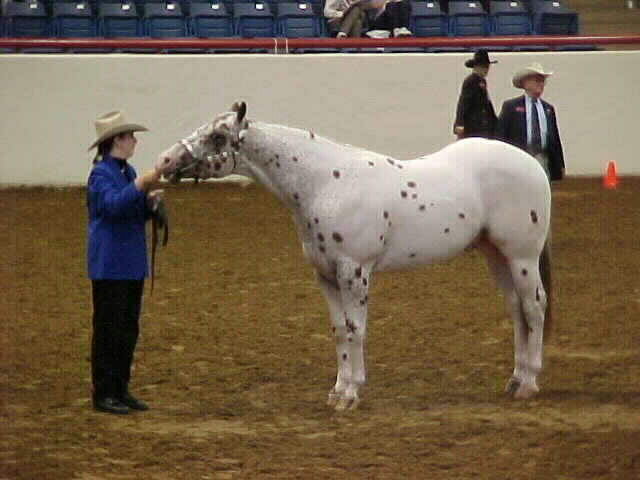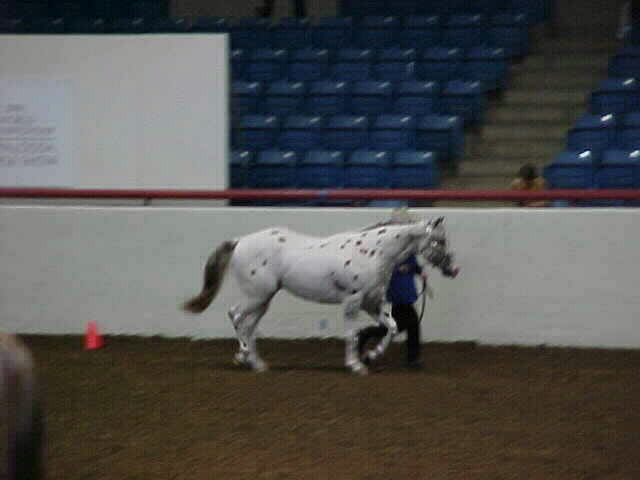 T showed well for Brian also, but I still insist he did better for me :)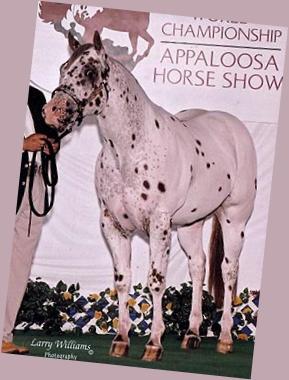 My boy then came home with me, to a brand new stall and paddock that Travis had built while I had gone to Texas. He was one happy camper! (And you just have to love the Mohawk look from the bridle path growing back in during his downtime!) It became a ritual for him to hear me coming out the door to feed, and he'd come running, talking all the way and letting me know how much he loved me (and the feed bucket of course...can't forget the feed bucket!)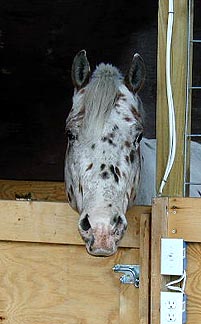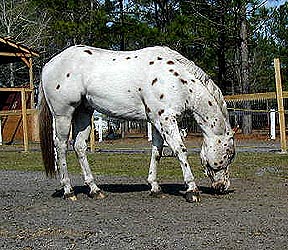 T had his stall for when it drizzled, his jolly ball which he loved to float in his water trough or throw into the neighbors yard, life was good. One day my neighbor, Lisa, came over just laughing. She had some friends over and they were playing volley ball over beside T's paddock. T had gotten into the spirit and had run about with his jolly ball, chunking it in the air and having a good time.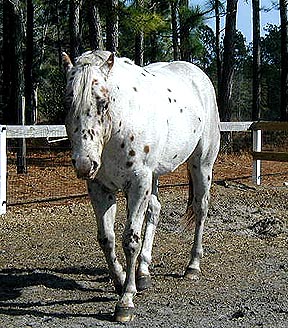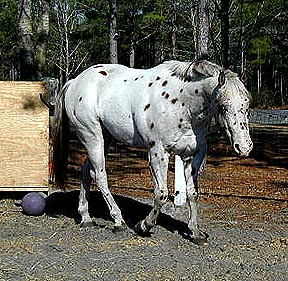 One day Lisa had caught me out in his paddock, spoiling him with a currying, and asked "What would he do if you just hopped up on him". I laughed, considering I could hop all I liked but without help, I wasn't going to be getting on his now 16+ hands! So I grabbed a convenient feed bucket and climbed aboard. As I had guessed, T didn't even flick a look at me, and continued munching on his hay. He was just that kind of horse.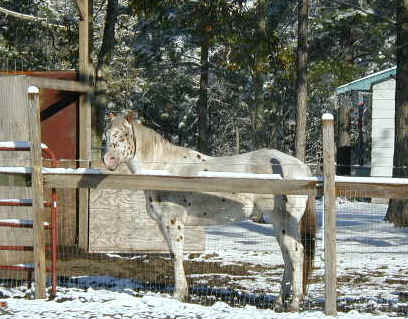 It was the following Spring that Spider was born, his first filly from the breeding back before leaving for the Raggios. She was beautiful, and such a joy to have. She was the culmination of so many dreams from the past years, and the beginning of others. She and T, along with the rest of the crew, helped me through 7 long months in which Travis was deployed to Bosnia. I didn't show, or even do much productive work with the horses due to dealing with day to day life with two children but it was a blessing to be able to go out and just sit sometimes and watch my babies. And to hear him talking to me when I came out the door - its nice to be wanted.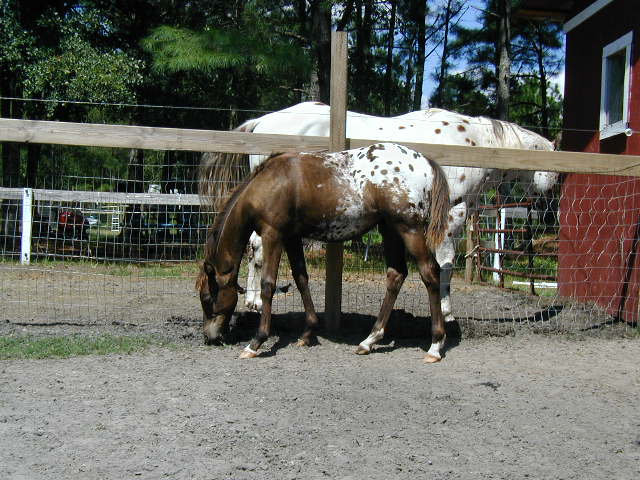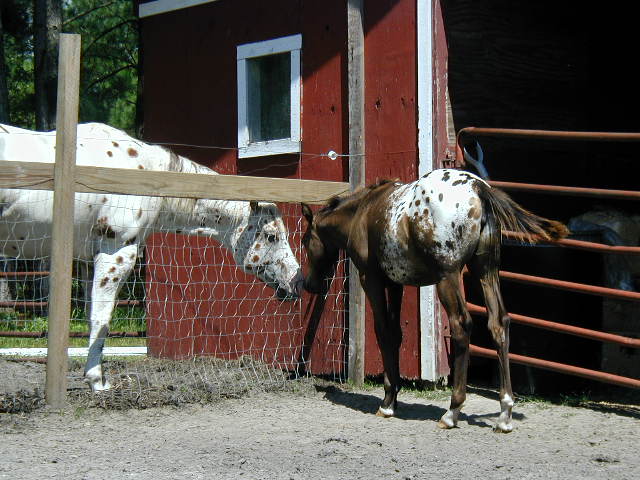 Fall arrived, 9/11 happened and being in the military, it affected us strongly. Travis was scheduled to return home on the 13th, but of course no planes were flying, it would be another week before he returned safe and sound. Putting life back into a normal order and finding a bit more time between the two of us, we started T under saddle about this time. He'd had the ground work on him all his life just about, and it was nothing to convert the pressure from the halter to pressure from a bit, and the saddle didn't phase him. The kids helped, and in fact Emma had ridden him about the yard all the time his yearling year, so I guess it was only fitting that she and Austin rode him under saddle too. He plodded along like an old broke gelding. You would never know he was anything more if you didn't know him well!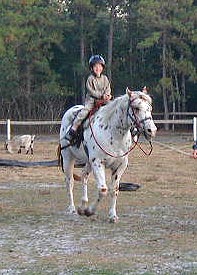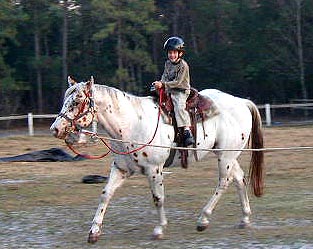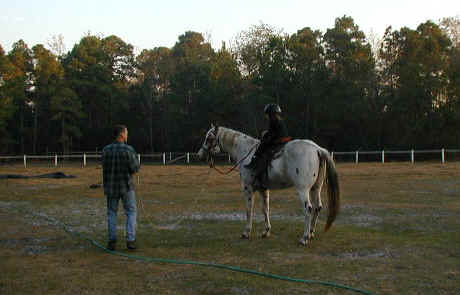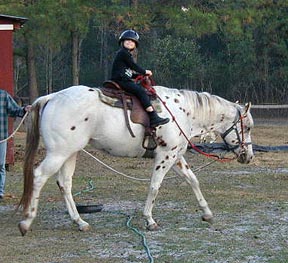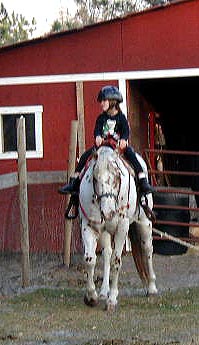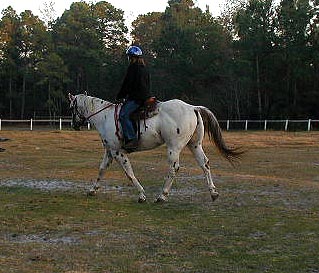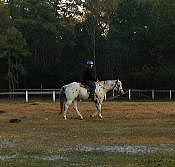 The following Spring, our second T baby was born, Maggie. A beautiful few spot filly by our mare Magic (Little Ms America). And we were looking at moving once again. Travis's commitment to the military over, we looked north, where we had asked the military to move us several times just to see if we could hack the winters before committing ourselves permanently! We weren't sure about it, but circumstances fell into place - the perfect farm (well, near perfect at least), a job offering, and people we knew who were happy to have us come live closer. As I said, it was near perfect, and T didn't have a paddock when we first arrived that summer. We had done well to get a pasture up for the mares considering there wasn't a fence left up on the place. So T lived in a small, make-do panel enclosure that ran into a small room in the hay barn for shelter. He didn't seem to mind, he was always content to just be. It didn't matter where you took him, where you told him to stand, he was usually happy to be there. He was one of the easiest horses to be around, always.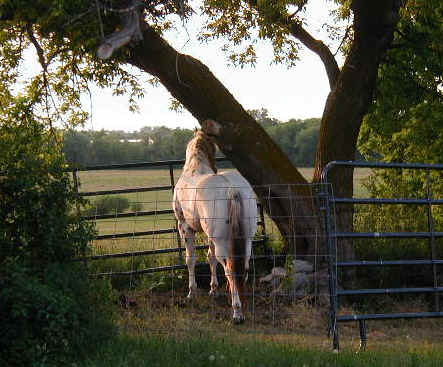 Of course, once the mares were settled, we began working on his paddock. This one was much bigger than the small one we had in North Carolina, and actually had grass! Turning him out in it and watching him delight in his new freedom, rolling, bucking, grazing - it was enough to make your heart soar. He had his own ways of saying Thank You.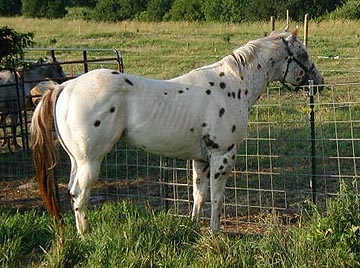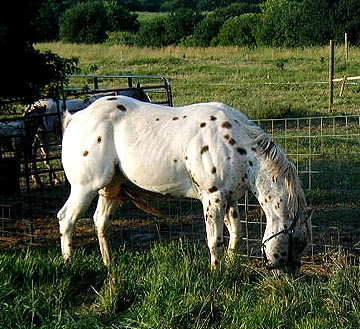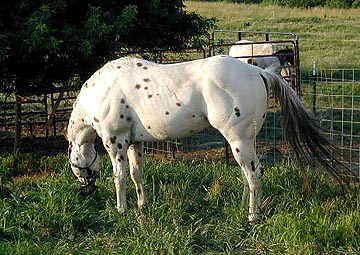 Travis fixed the paddock where T could come up a ramp into the barn where we built a stall for him. He was out whenever the weather allowed, and that was most of the time. He didn't care much for cold rains and we had to keep him up during the worst of the winter due to ice. Come summer, he was brought up during the day to prevent sunburn.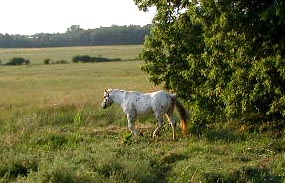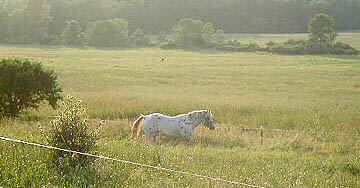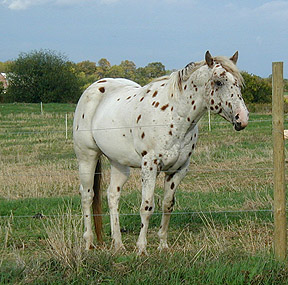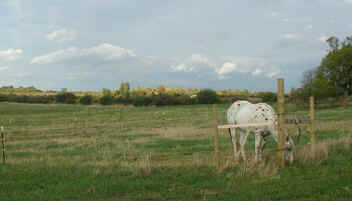 Winter hit, and it was a rough one, but T took it well. He loved the snow, didn't care for the wet cold and preferred to hang out in his stall when the winds really got bad. But he and I would spend time on those bitter days, him munching his breakfast, and me currying him to prevent rain rot. T didn't get a very long winter coat, but it was thicker than wool on a sheep and because of that, he tended to be prone to getting rain rot if not kept groomed. He never complained, if there was one thing that horse loved almost as much as food it was being groomed.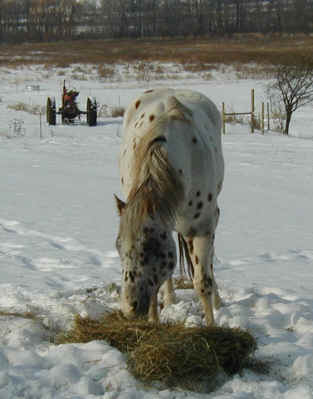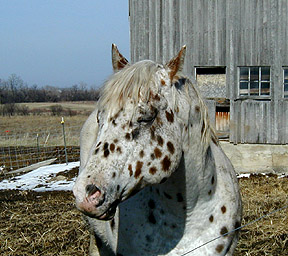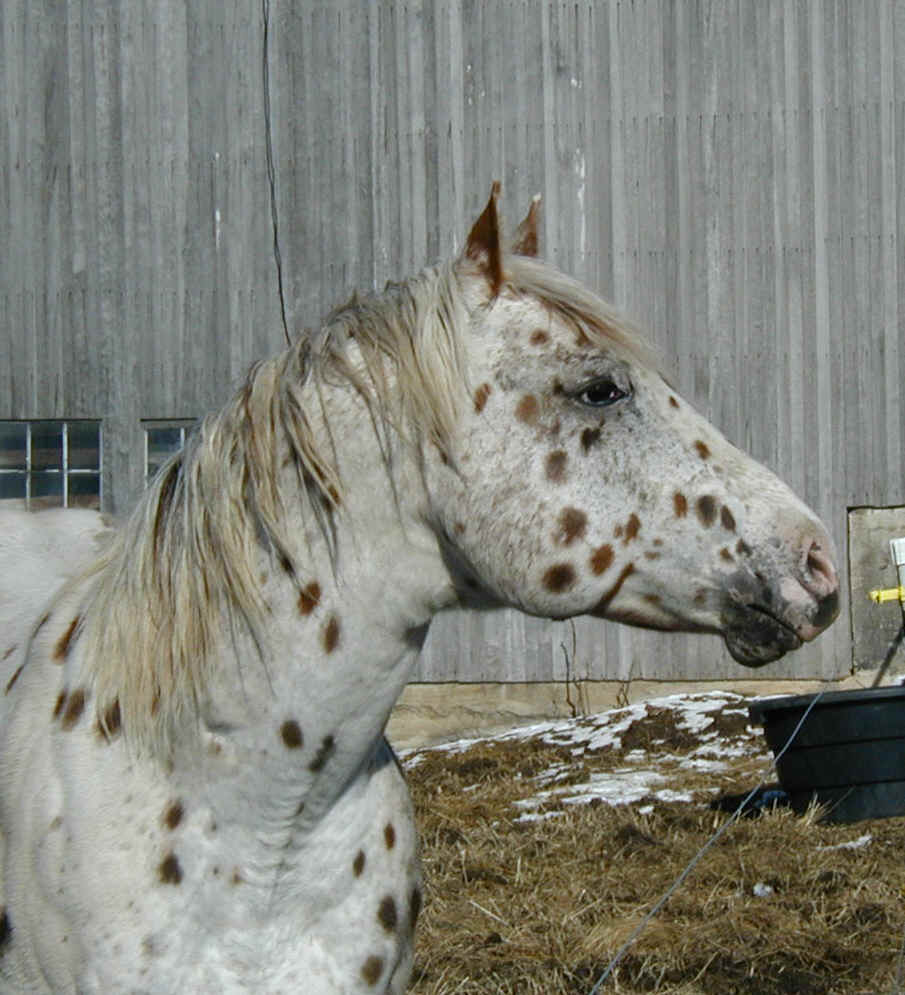 Spring arrived, slowly to be sure but it finally got here. We had three T babies born here, but lost one to septicemia. Two more were born to outside mares, one of those would be lost also. It was hard on us, but we never dreamed this would be our last breeding season with him. That would have made it even harder. We bred 3 of our own here to him, one of which was lost late in pregnancy, and one outside mare we shipped to also carried a T baby. T was always the gentleman, and more often than not we collected him using only a dummy, no mare. He knew his business and he knew when and where.
It was this year that we also returned to the show ring. We had a weanling filly, born in January, Pepper, who we wanted to show, as well as his now two year old Spider. So we hauled the three of them to shows up here in NY. T was always such a joy to show (well, except the one show in Mass. where he was cranky at the late timing of the classes but we were all cranky by then!). You could always count on him to be right there with you, paying attention and knowing what was expected of him. I joked at that first show that I was taking him as a confidence booster, because I knew I could show him. And show him I did. We got the points needed for Worlds in two shows, 6 first place placings, a second and a third in Aged stallions. Two other shows we went to and stood alone in that class with no competitors. But I enjoyed showing him, and I can't imagine not having him out there ever again. (Thank you Lori for the pictures of T at Plattsburg!)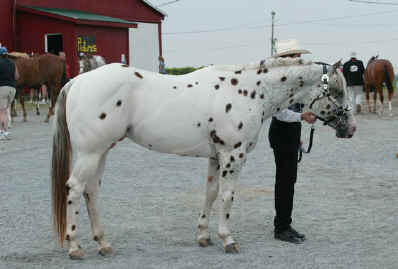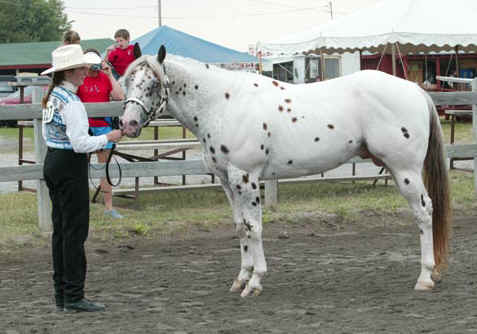 T also did his share of changing peoples' minds. He made people rethink their negative stances on appaloosas and stallions. When a group of homeschoolers came out, he stood quietly while young hands felt the softness of his muzzle, learned that all horses are individuals and that appaloosas are a breed, not a color. He was truly a special horse. I never had to worry about him being a problem when we went out of town and a friend of ours, Katy, came over to feed. The mares were much more likely to cause trouble than T ever was! Here are Katy and T, not long before we lost him...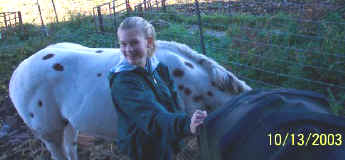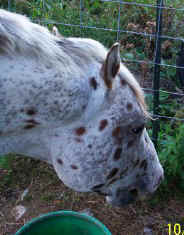 I will never forget the fear, pain and misery of that morning when T did not call to me at feed time and I knew something was wrong. He had torn a hole in his diaphragm, and died from internal bleeding from that tear. We suspect he did it rolling in the mud. There were no other injuries, no indications of any other problems, just that horrible tear in the muscle.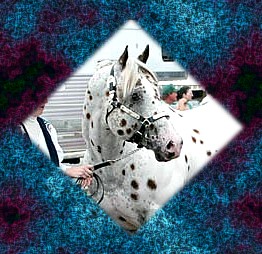 You will be missed my "ol' man" and will forever be in my heart. Your babies will carry on but they will never be you. I will hold tight to the knowledge that we will be together again someday, and I know when I open that door, it will be your whinny I hear calling me home.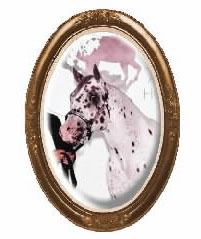 ROM in Open Halter
Top Ten 2000 National Appaloosa Horse Show
Top Ten 2000 Appaloosa World Show
Multiple Grand Championships
Multiple Reserve Grand Championships
Qualified For 2003 Worlds in Aged Stallions
NAA High Point Aged Stallion 2003
Points in Open Halter, NP Halter and Most Colorful
11 babies - ALL colored!
**As of the end of 2003...Offspring have earned points in Open Halter and Most Colorful. So much more to come though!**
***2004 Update***
Maggie and Zack have added Hunter In Hand and FPD Halter to the list of points earned!
Fall 2004 - Both Scarlet and Shadow earned points their first time in the arena! Only two T-babies have not earned points, and that's only because they have not been shown yet!
Sept. 20 Update - "Rusty" entered the arena in Canada for the first time, and won his futurity class!!! 7 out of 8 babies in the ring and pointed already...
***2005 Updates***
Scarlet qualified for Worlds being NAA's high point yearling filly with only the 2 shows we took her to!
Rusty came back for a win in Yearling Colts/Geldings at OABF this year, as well as winning the Most Colorful Class and taking a 3rd in Lungeline!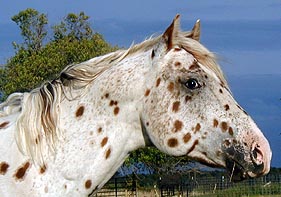 What he left behind for us...
Click on the picture for more info on each baby...
Tardee Silver Lining

"Spider"

2001 Black and White Mare

Pointed in Most Colorful at Halter

Moonshine and Magic

"Maggie"

2002 Black and White Few-Spot Mare

Now at Winton Farm

Pointed in Most Colorful at Halter, Open Halter, FPD and HIH.

***6/1/04 = Tied for Leading the Nation at FPD Halter Mares!***

Tardee Little Pepper

"Pepper"

2003 Chestnut and White Leopard Mare

Pointed in Weanling Fillies and Most Colorful at Halter

Eagles TardeeTribute

"Zack"

2003 Bay and White Snowcap Stallion

Pointed in FPD and Open Stallions, as well as Hunter in Hand!

Top Ten in the Nation FPD Stallions for most of 2004!

Tardee Texas TwoSpot

"Tex"

2003 Chestnut Gelding with snowflakes.

Tardees SweetGoodbye

"Scarlet"

2004 Chestnut and white leopard Filly

Pointed in Weanling Fillies!

2 Firsts on her first time out!

Tardees Moonshadow

"Shadow"

2004 Bay and white Few Spot filly

2 Seconds her first time out! One over, and one under her sister Scarlet!

Pointed in Weanling Fillies!

Owned by Anna Tachick

Talk About Dee Money

"Rusty"

2004 Chestnut and White Leopard Colt

Futurity Winner his first time out!!!

**UPDATE:**

Rusty came back in 2005 to win his Yearling Colts/Geldings Class at OABF as well as the Most Colorful class!

Owned by Yvonne Harrison
Those who wait with their sire...